Spring Ahead with these Spring Cake Recipes
Spring is right around the corner and so are the fresh flavors that come with it. We still recommend you do your spring cleaning, but once you've got that marked off your checklist it's time to move on to spring baking!
While cakes are perfect for every season, they're particularly great for spring, a time when many are using fresh flavors and ingredients like fruit. So put down the chocolate and vanilla cake recipes and let's spring forward with these fresh spring cake recipes.
Recipe by jocooks
Lemons are a springtime favorite. They're fresh, light, and add zest and tartness to indulgent sweets. Try this lemon cake recipe for the perfect spring dessert. With the tartiness from lemon, creaminess from milk and butter, and sweetness from powdered sugar, this Lemon Magic Cake hits all the marks; perfect for Mother's Day or any of your springtime celebrations.
Skip the lemonade and make try this Lemon Magic Cake recipe instead. Perfectly sweet and sour, we can't guarantee you'll not lick the bowl.
Recipe by mrskfp
Thought to have originated in Jamaica, the hummingbird cake is not your average cake. The cake's name is an ode to its original nickname in Jamaica, "The Doctor Bird cake." Oil-based versus butter, more fruit than flour, the cake itself is moist and flavorful. Throw in pecans, banana, pineapple, and cream cheese frosting and you've got the perfect recipe for a springtime cake. Make it Instagram-worthy by doing cake layers and decorating with toasted coconut flakes or crushed pecans.
Wanting to impress your guests at your next hosted brunch? Take flight with this Hummingbird Cake recipe.
Recipe by floatingkitchenrecipes
Who said you couldn't have your sweets with your veggies? Definitely not us. Try baking with rhubarb! What exactly is rhubarb you ask? While similar to celery in shape, rhubarb is a seasonal springtime pink vegetable and hails from the buckwheat family. The vegetable, tart in flavor, is often baked with a lot of sugar to mellow out its sour taste.
Ready to dive in? Try this Rhubarb Almond Cake recipe.
Recipe by savoryspin
Stop and smell the roses. But don't forget to eat them too! Edible flowers like roses are a particular favorite during this blooming season. All true rose varieties are edible but the ones with sweeter fragrances and darker in color will have the most flavor.
When you're ready to bake with floral flavors, try this Pistachio Rose Semolina Cake. With nutty pistachio, fragrant rosewater, and coarse slight sweet semolina, this recipe is the perfect introductory to cooking with edible flowers.
*Be sure when using roses for cooking that they are food-safe. Don't use roses from the floral shop as these have usually been grown with pesticides or fertilizers.
Recipe by cookieandkaterecipes
A zesty take on the Mediterranean version, this citrus olive oil cake is a must-try for spring. Olive oil cakes are common in the Mediterranean and a staple in most households. The cakes end up being moist and tender since olive oil is used instead of butter. Flavors like citrus complement the flavor of olive oil, creating a delicate yet savory flavor.
Swap the butter for olive oil and try out this Citrus Olive Oil Cake recipe.
Recipe by foodandwinerecipes
Not wanting to bake a cake? We get it. Sometimes you want sweets on the go. Portable, packable, and snack-able, cookies are a great option. Matcha has a delicate, earthy flavor that balances the sweetness of your typical cake cookie. This recipes pairs well with coffee like a sparkling iced espresso.
Meet your match-a with this Matcha Tea Cake Cookie recipe.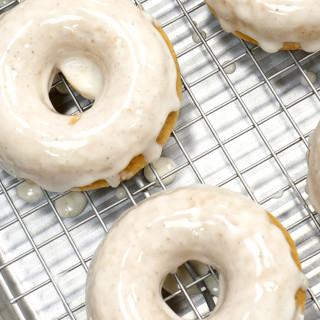 Skips the slices and bake donuts instead. We may be biased here but our BigOven original recipe for Tres Leches Cake Donuts is a must-try for this season. These donuts are the perfect blank canvas for a springtime sweet. The glaze can be complemented with fresh berries like strawberries and blueberries. Add zest, like blood orange and lime, to balance out the sweetness with some tart flavor. For more texture and crunch, use a crumb coat, like toasted almonds or walnuts. Click below for the recipe!