Tamarind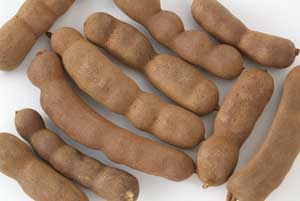 Tamarind is a wonderful additive to sauces, but the fresh, sticky pulp inside the pods can also be eaten as a sweet-sour treat.
Tamarind is the fruit of a tree native to East Africa and . The juice is used in a variety of ethnic cuisines, including those of Asia, , the Caribbean, and . Thai cooks, in particular, incorporate this sweet-sour treat in savory dishes.
It is an important ingredient in Worcestershire sauce and some barbecue sauces and ketchups, but can also be consumed fresh as a snack. Tamarind makes delicious chutneys, curries, and drinks as well.
Varieties
• There is only one species of tamarind tree from which the dark reddish, curved pods are harvested. The pods, which grow to about 7 inches in length, contain seeds and fibrous strips that must be strained to reserve the sticky pulp.
• Sold as whole pods, paste, extract, nectar and in powdered form.
• May also be called tamarindo, asam, and Indian date.
• Pulp extract is available and more convenient than boiling whole pods.
• Sweet tamarind is available for use in beverages.
Buying Tips
• Purchase extract if available as it's much more convenient than boiling pods.
• Compressed pulp is also formed into blocks. These may be labeled as "wet" or "water" tamarind.
• Whole pods include the "husks," which easily peel away on mature fruits.
• Some Asian markets may carry "makahm wahn," which is the sweetest.
• Always check labels; some types have added salt and should not be used in sweet dishes.
Storage Tips
• Keep whole pods and compressed blocks in plastic bags away from heat and light. They'll be usable indefinitely.
• Refrigerate liquids (water tamarind) after opening and use within two weeks. Juice, whether purchased or homemade, will begin to ferment within one week.
• There is no need to refrigerate pastes or concentrates until opening.
• Concentrated pulp freezes well.
Usage Tips
• Tamarind is often used in marinades as an acidic tenderizer.
• When reconstituting, always strain to remove fibrous pulp and any seeds.
• Include with sweet fruits such as pears and peaches.
• For most recipes, the tamarind pulp should have the c