8 Alternative Crusts to Try Instead of Regular Pizza Dough
Sometimes pizza dough just doesn't cut it, leaving you wondering what alternative crusts are available. Perhaps you don't enjoy the flavor of regular pizza dough and typically leave any bits not covered in pizza sauce or cheese on your plate. Maybe you're hoping for a lower-calorie version so you can enjoy a healthier version without sacrificing flavor. Or, perhaps you have gluten intolerance and can't bite into traditional pizza crust.
Whatever the reason, you're on the hunt for alternative crusts, and we've compiled a list of delicious alternative crusts to try! These crust options range from delicious veggies to protein-filled options.
Instead of avoiding pizza crust, you'll want to create these alternative versions as often as possible!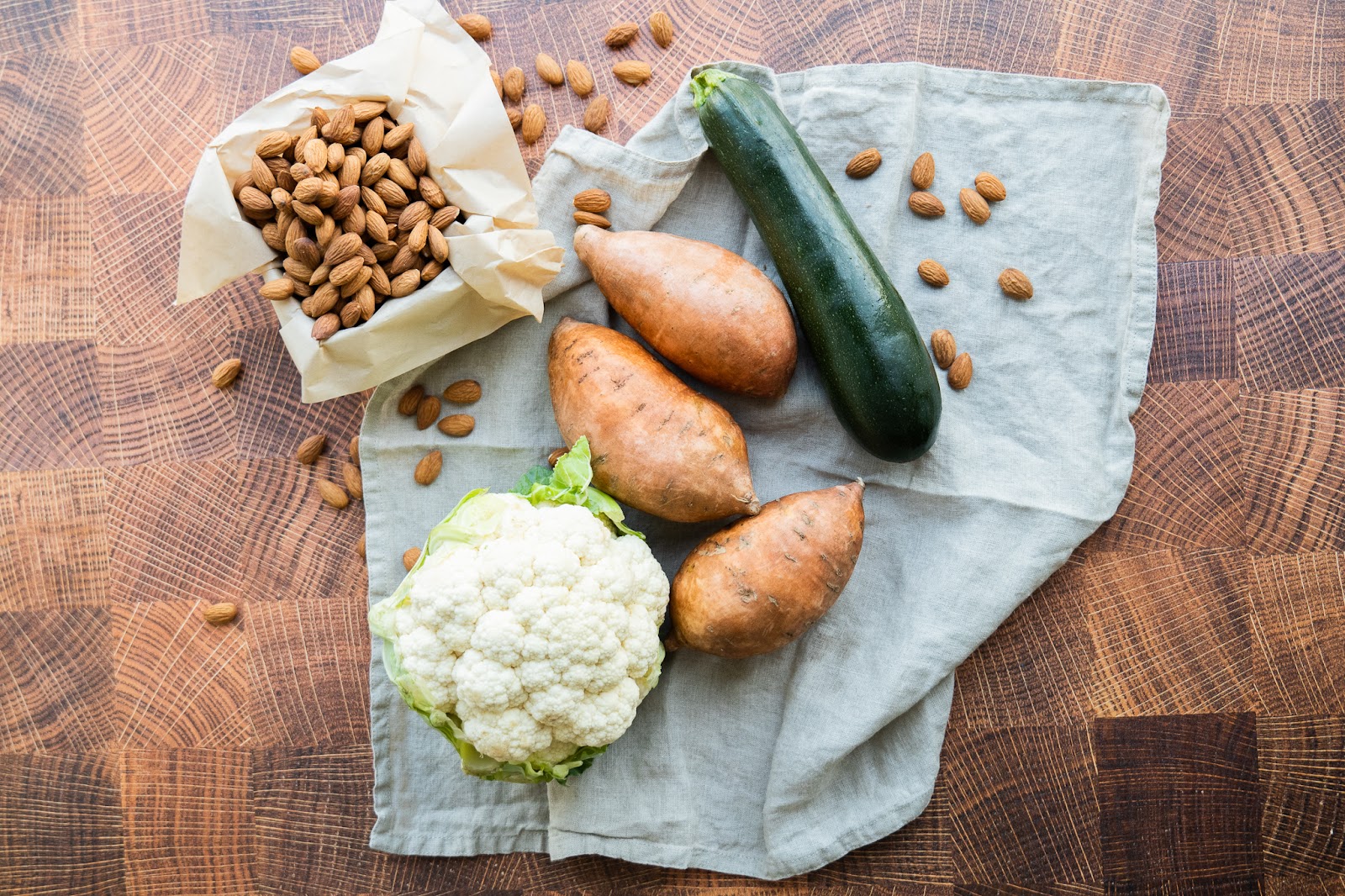 Mozzarella Cheese Crust
Believe it or not, you can make a delicious pizza crust from mozzarella cheese. Purchase shredded cheese (or shred a block at home), spread it on a baking sheet in a circular shape, and bake for 10 minutes until it's melted and lightly golden.
Then, you can add your toppings and bake for a few additional minutes. The key to a successful mozzarella (or cheese crust) is spraying the pizza pan to ensure the crust does not stick. This crust alternative is low carb, making it a great option for those on the keto diet.
Cauliflower Crust
Cauliflower is one of the top pizza crust alternatives, mainly since it's delicious and can easily provide a crispy crust. It's lower calorie, so you won't feel guilty indulging in a few slices. Plus, it's easy to recreate to make cauliflower crust at home or enjoy a store-bought pie crust.
If you elect to make a homemade version, you'll need to add cauliflower florets to a food processor, steam, and drain them before they can become a delicious crust alternative. Once you've mixed the cooked cauliflower with ingredients like parmesan cheese, you're ready to press it onto a baking sheet or pie pan and top with your favorite ingredients.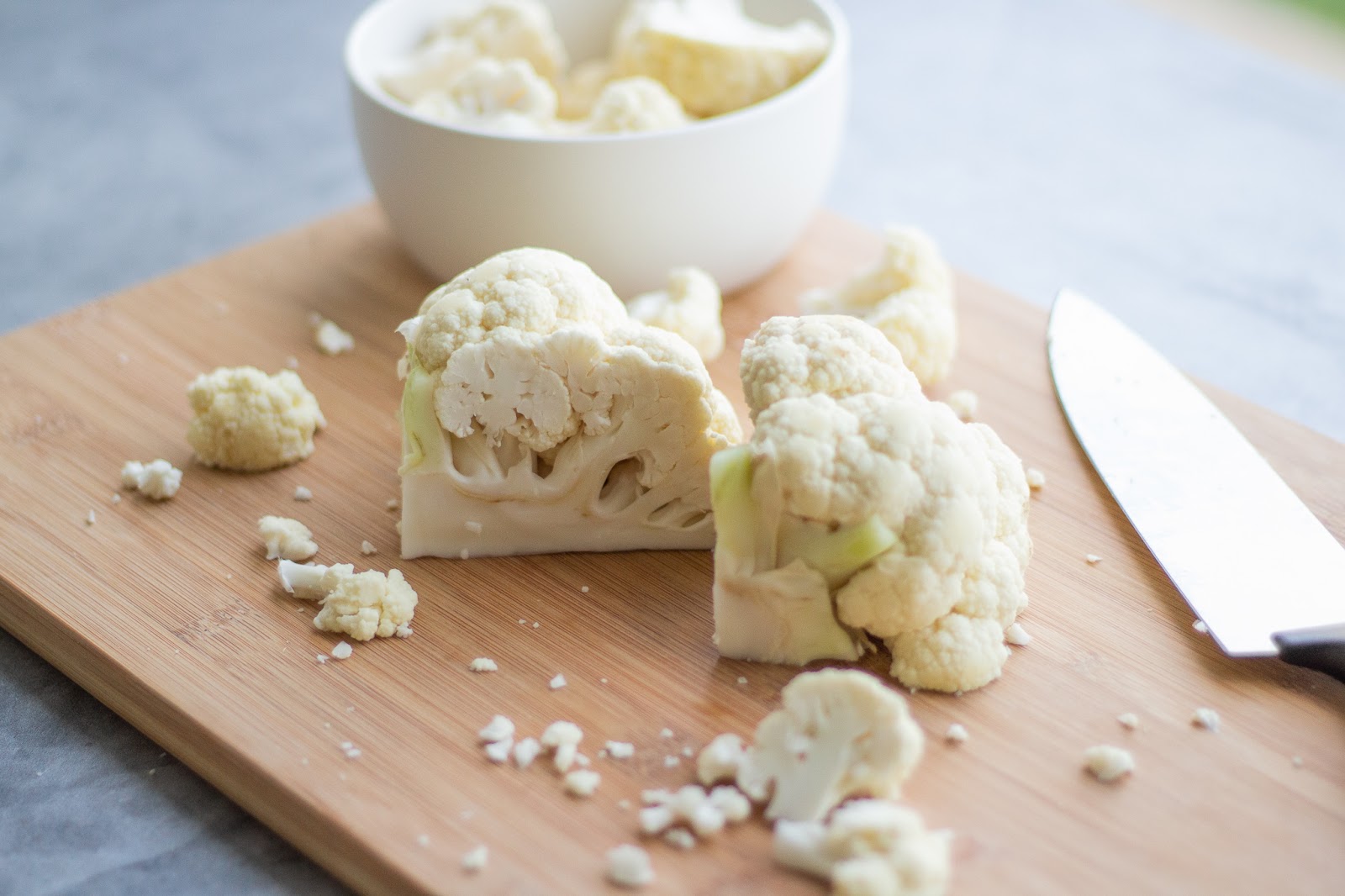 Almond Flour Crust
Using almond flour to make alternative crusts is another top option. It's an excellent alternative for those searching for a gluten-free option. You can create an almond flour crust with only five ingredients – almond flour, eggs, salt, olive oil (or melted butter), and baking soda. Combine and bake for a few minutes at a 350°F oven temperature. This combination will help produce a thin, crunchy crust.
As a note, almond flour crust does not hold up well in the refrigerator, so plan to make only the amount you can eat. Alternatively, you can freeze almond flour dough if you have not baked it or added any toppings. Then, when you're ready to make pizza, simply defrost the dough, and you're ready to go.
Chickpea Crust
Vegetarians will love this option! Making pizza crust out of chickpeas is a great way to boost protein and fiber intake. Plus, it's super tasty! Instead of whole chickpeas, you'll use chickpea flour as the pizza dough base.
Combine the flour with olive oil, salt, and seasonings, and you're ready to go! This simple recipe is great for people who enjoy a thin, crispy crust. Before adding the toppings, ensure you bake the crust (flipping halfway) until it's golden brown on both sides.
Spaghetti Squash Crust
Spaghetti squash crust is exactly what it sounds like! You'll be using cooked spaghetti squash that has been shredded to make a tasty pizza crust. Using a cheesecloth after cooking the spaghetti squash is essential to remove as much moisture as possible. If you don't remove the moisture, you'll be biting into a soggy crust that's challenging to eat.
This note applies to most vegetable-based pizza crusts since they have a higher water content than standard pizza dough. Baking spaghetti squash crust before adding the toppings also helps remove moisture, leaving you with a more crust-like consistency.
Sweet Potato Crust
If you're someone who enjoys a pizza crust that offers a fun texture, you'll love making sweet potato crust at home. Unlike the other options where you're using flour or mashed/shredded vegetable, you'll make this crust using chopped sweet potatoes. They help add a delightful flavor that's slightly sweet and a fun consistency that will keep you on your toes.
Mix the sweet potato pieces with eggs, cheese, and seasoning. Then, spread it onto a parchment paper-covered pizza pan and bake until crispy. Add whichever toppings you like, and you have a yummy pizza that's ready to eat.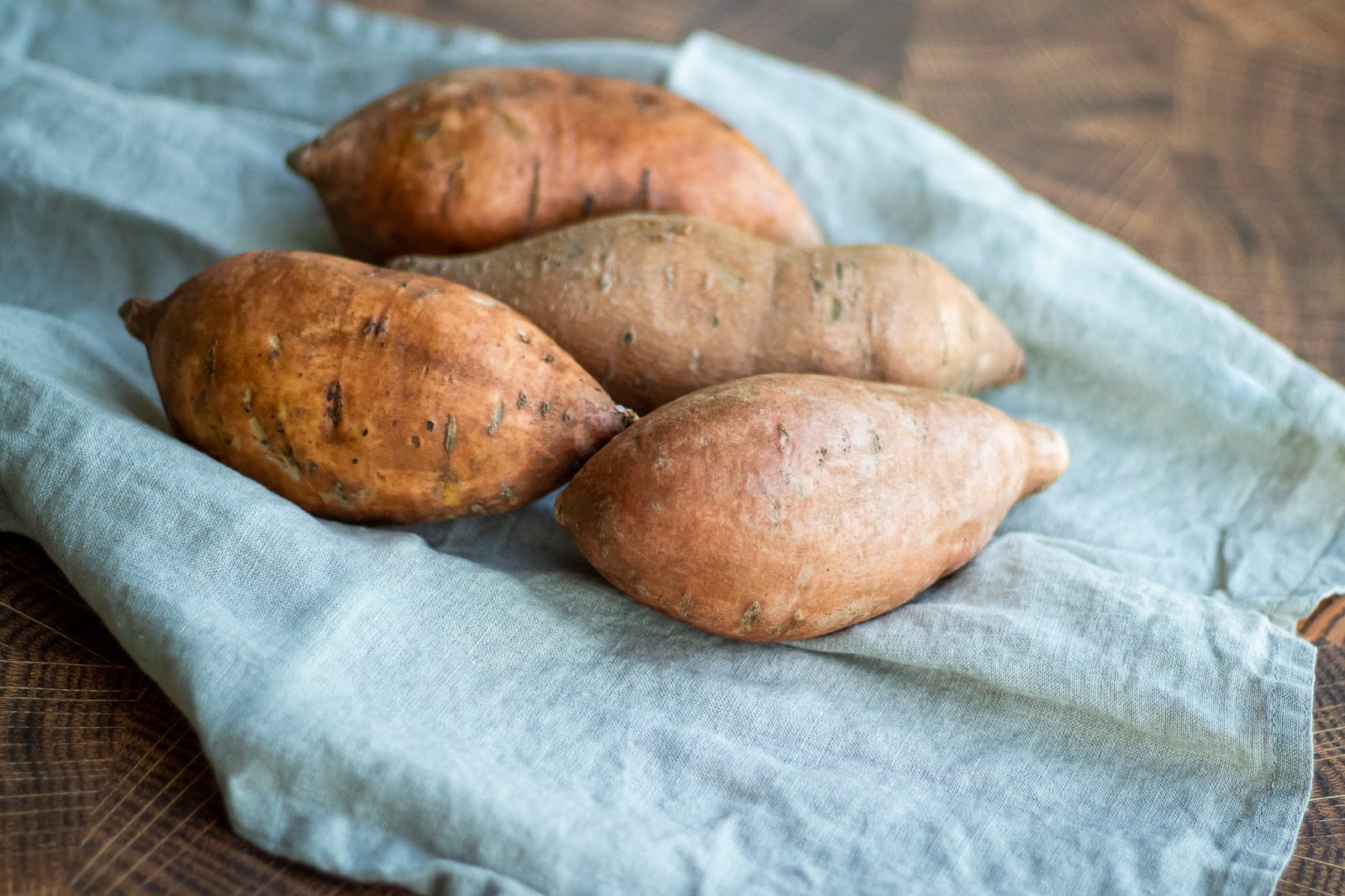 Ground Chicken Crust
Many people don't realize that you can grind chicken (or turkey) and turn it into a pizza crust. This option is protein-filled and incredibly easy to make at home. It's an excellent alternative for health-conscious individuals who want to skip the carbs that regular pizza dough provides. Plus, it's low-carb, so it's a great choice for keto dieters.
After you purchase ground chicken from the store, mix it with shredded cheese and seasoning. Press it into a pizza pie plate/pan in a thin layer. Bake for 20 minutes, add your toppings and finish baking it in the oven for about 15 minutes.
Zucchini Crust Pizza
Last but not least is one of our favorite options – zucchini crust pizza. This option requires shredded zucchini to help create your alternative pizza crust. The method for creating this crust is similar to cauliflower. However, you won't need to pre-cook the zucchini before turning it into a crust.
Instead, you can cover it in salt and "wring" it out to help remove the excess moisture. Mix it with eggs, seasoning, and cheese before baking it on a baking pan or pizza pan for a few minutes. Like the above options, you can add your toppings to the baked crust and toss it in the oven for a few more minutes.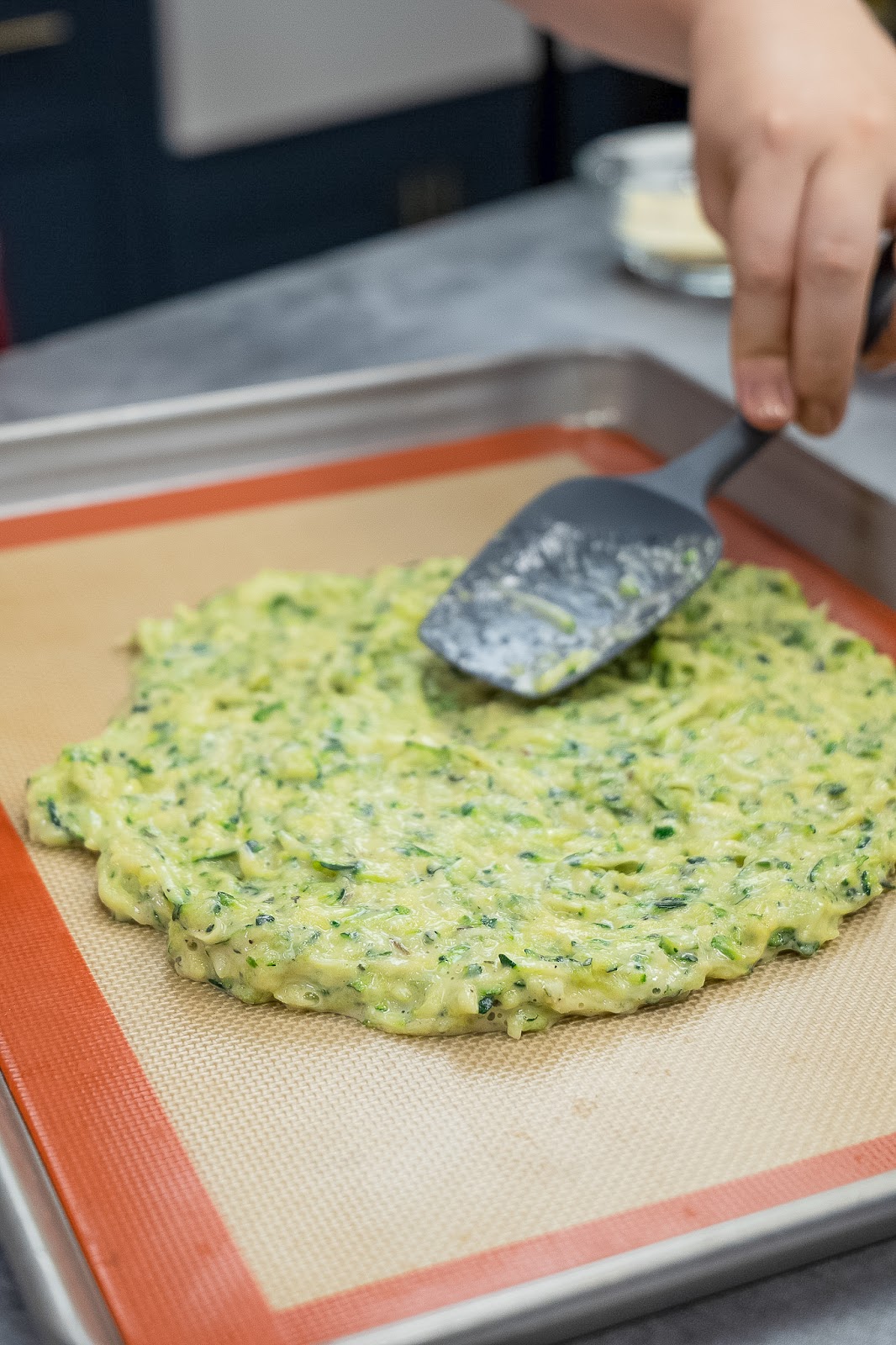 Alternatively, you can make a pizza boat by slicing the zucchinis in half lengthwise and topping them with pizza sauce and cheese.
Ready to make some of these alternative crusts at home? Remember, removing excess moisture is the key to a delicious (crispy, not soggy!) veggie-based crust. Squeezing the liquid out using a cheesecloth, then baking the crust for a few additional minutes is the best method for making these crusts at home.
Give in to temptation for cheesy, hot pizza with this lightened-up version featuring plump cherry tomatoes, savory mushrooms, and a fresh, crisp salad on top.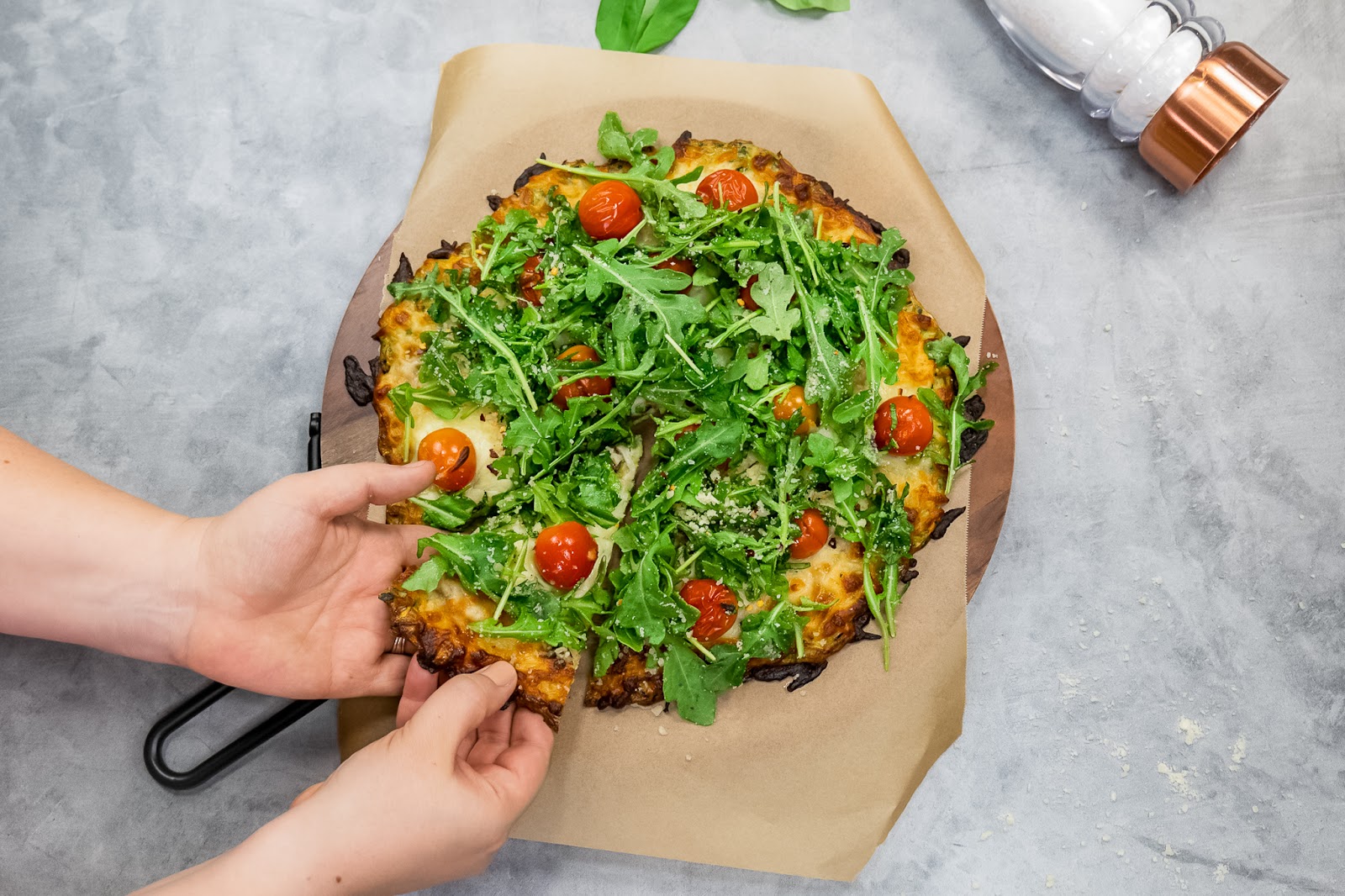 Bonus tip – don't forget to have fun with the toppings! Just because you're creating crusts that are different from pizza dough doesn't mean you can't add yummy toppings like mushrooms, fresh basil, sliced olives, pepperoni, etc.
Try these alternative crusts and see which one you enjoy the most!