Unlocking the Flavors of India with Butter Chicken
Butter chicken is an authentic North Indian dish with deep complex flavor thanks to the use of several different spices and aromatics. With its warm toasty spices and luxurious texture, it's the ultimate comfort food.
Spices Used in Indian Butter Chicken
This dish is filled with a variety of spices from warm cinnamon to spicy cayenne. The blend of spices work together to create a complex, perfectly balanced flavor profile. I'll take you through some of the key spices in this dish.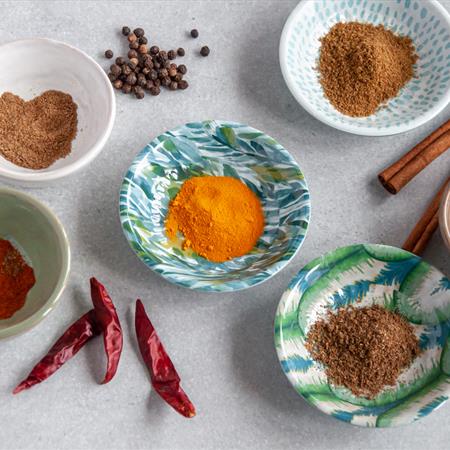 Turmeric
Turmeric is known for its vibrant yellow-orange hue and offers a ton of health benefits ranging from increased brain function to lowering risk of disease such as heart disease, cancer, and Alzheimer's.
Dried turmeric is made from drying out turmeric root and then pulverizing it into an easy-to-use shelf-stable powder.
This recipe calls for dried turmeric because it's easier to find, but you can also use fresh turmeric if you have some on hand. It's a root vegetable similar in appearance to ginger, and you can peel it and grate it with a zester the same way you would prepare ginger.
In this recipe, turmeric is used in the chicken marinade to give the chicken a vibrant color.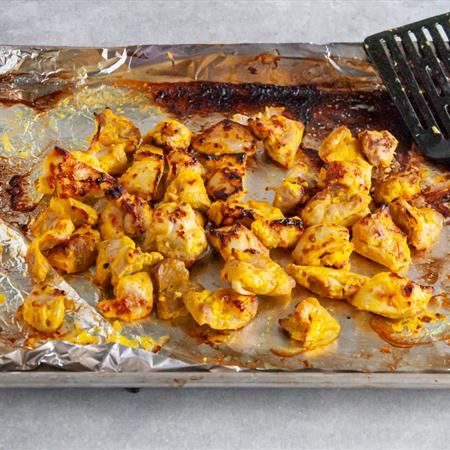 Garam Masala
Garam masala is an Indian spice blend that's used in many Indian recipes. Typically, garam masala includes a combination of cinnamon, mace, peppercorns, coriander, cumin, bay leaves, and cardamom.
This Indian spice blend is a mix of sweet, warm, and savory… a little bit of everything! Sometimes garam masala also includes a bit of chili powder or black pepper to add some spice, but it is usually pretty mild.
Paprika
Paprika is a bright red powdered spice made from dried red peppers that are ground. There are several different kinds of paprika depending on what kind of peppers are used.
Some paprika can be a little spicy, but it is usually pretty mild. Additionally, sometimes the peppers are smoked beforehand which gives the paprika a smoky flavor. More commonly, regular paprika, labeled simply "paprika" is sweet and mild. Either can be used in this Indian Butter Chicken recipe.
Cumin
Cumin is a popular spice in many different cuisines, including Indian food. It's frequently used in many different types of curries, and it adds a warm, nutty, slightly earthy flavor to this Indian Butter Chicken dish.
Coriander
Coriander is the dried seeds that come from the same plant as cilantro, the herb. That's why in some parts of the world, people refer to the herb cilantro as coriander. However in this case, we are referring to the dried and ground seeds.
Coriander has a similar flavor profile to cilantro—a bit earthy, but also sweet, with a bright floral aroma.
Cayenne
Like paprika, cayenne also comes from red peppers that are dried and ground into a fine red powder. However, cayenne is quite spicy.
Since Indian Butter Chicken is fairly mild compared to most other curries, you can control the spice level in this dish with the use of this ingredient. If you like it a little spicier, simply add a bit more cayenne to your spice mix.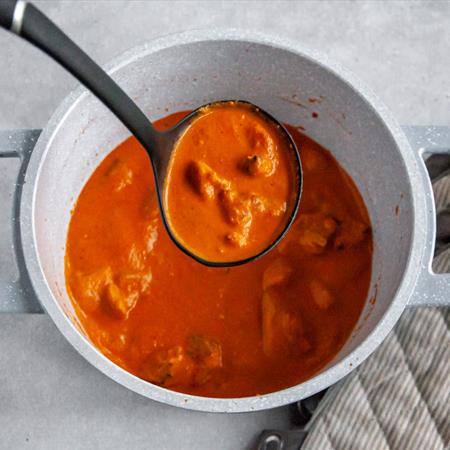 How to Make the Most of Your Spices
Now that we've reviewed the origins and flavors of these spices, let me give you a few tips on how to best use spices so their vibrant flavors really come through.
Use fresh, whole spices and grind them yourself.
Whenever possible, I like to use whole spices and grind them myself. Pre-ground spices lose their flavor more quickly, so grinding them yourself ensures they will be fresh and flavorful.
This also goes for the garlic and ginger in this recipe! Pre-ground products are convenient and a huge timesaver. But to get the best results and best quality flavors, it's best to use fresh garlic cloves that you peel yourself and fresh ginger that you grate yourself.
Toast or bloom your spices.
Toasting spices before grinding them really increases the nutty flavor compounds present in many warm spices. To toast whole spices, place them in a dry skillet over medium-low heat for a few minutes until fragrant.
If you're unable to get whole spices, you can also toast ground spices. Ground spices can also be toasted in a dry skillet for about 30 seconds for the same effect.
Blooming spices refers to frying the ground spices in oil. This is accomplished in the Indian Butter Chicken recipe when we cook the spices with the onion in butter to release their flavor compounds. This technique really enhances the flavor.
Now that you know how to best use the spices of India, let's get cooking!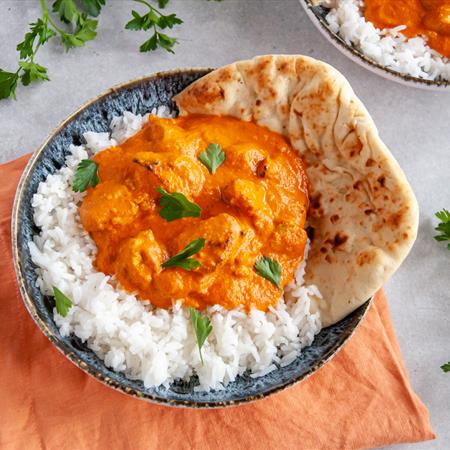 Try our BigOven Original Butter Chicken Recipe: